WHY NOT HAVE A FANTASTIC FOOTBALL PARTY? – BOOK TODAY USING THE FORM BELOW! SUPER SOCCER STARS PARTY – 5-11 YEAR OLD'S

The most cherished and memorable event of the year is your child's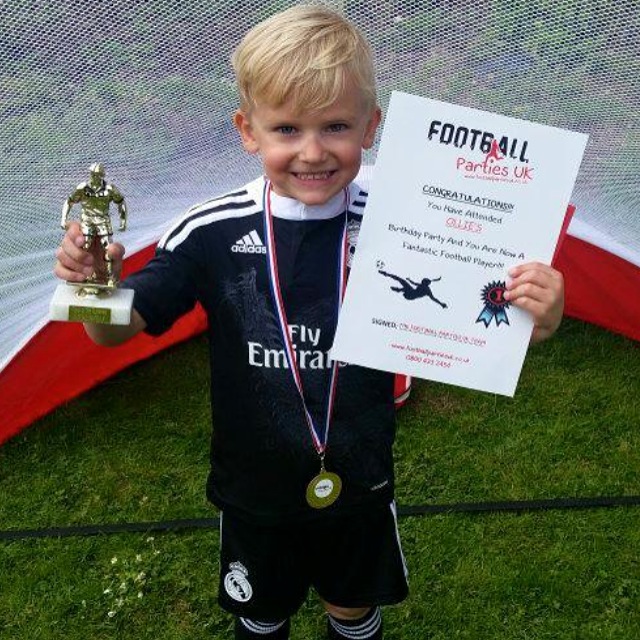 birthday. We at Football Parties UK are here to fulfil each child's dream party. Our parties last 60 or 90-minutes and consist of fun-filled games, competitions and a football tournament with a special presentation to finish off a fantastic day.
All our parties are run by FA Qualified Coaches, who have extensive experience to make it a day to remember. All our professional football equipment will be provided including balls, goals, bibs and cones so there is no stress on your part. Everything is taken care of.
THE VENUE
Our coach can run your football party at a venue you have hired or you can come to a venue hired by us. All parties held at a venue hired by us consists of 90 minutes of football activity and 30 minutes exclusive use for you to put on refreshments. For this option, please select the World Cup Package.
If booking your own venue a good sized park, back garden, village, church or sports hall would be appropriate to run a football party in. We have 2 fantastic packages for you to choose from, alongside extras to make it personal.
CHAMPIONS LEAGUE PARTY  (venue hired by you) – £75.00 (1-Hour) OR £95.00 (90-Minutes)
• 60 or 90-Minutes of skill games & tournaments for up to 30 children
• Your own fun & professional FA Qualified Football Coach
• Professional equipment & goals provided by your Coach
• Personalised football party invitations template (PDF/WORD DOC.)
• Personalised Football Parties UK certificate's for each child
• A card for the birthday child
• A present for the birthday child
• The party is held at a venue booked by you
WORLD CUP PARTY (held at our venue) £149.00 (90-Minutes) OR £179.00 (2-Hours)
• 60 or 90-Minutes of skill games & tournaments for up to 30 children
• Your own fun & professional FA Qualified Football Coach
• Professional equipment & goals provided by your Coach
• Personalised football party invitations template (PDF/WORD DOC.)
• Personalised Football Parties UK certificate's for each child
• A card for the birthday child
• A present for the birthday child
• The party is held at a Football Parties UK venue – click here
EXTRAS:
• A Football Parties UK medal – £0.99 per child
• A Football Parties UK bottle – £1.99 per child
• A Football As A Gift – £2.99 per child
• A Football Parties UK trophy – £4.99 per birthday child
• Make it a joint football party (present & card) – £4.99 per birthday child
To find out more or to book your perfect football party with us please fill out the form below or contact us on:
Landline: 0800 433 2454
Mobile: 0333 577 2454
Email: info@footballpartiesuk.co.uk
(Football parties in South London, North London, Essex, Hertfordshire, Berkshire, Surrey, East Sussex, West Sussex and Kent)