Due to the most recent guidelines of the UK Government to close schools, Football Parties UK has a duty of care to follow suit and will not be returning to business until at least summer 2021 at the earliest.
Football themed parties in the UK covering England & South Wales.
Welcome to Football Parties UK, based in England we are one of the largest sports themed party providers in the UK. We can currently provide football themed parties in all counties in England & South Wales.
We also have coaches in North, South, West & East England, as well as South Wales, all waiting to make your party the best one yet.
Do you want a fun-filled, memorable children's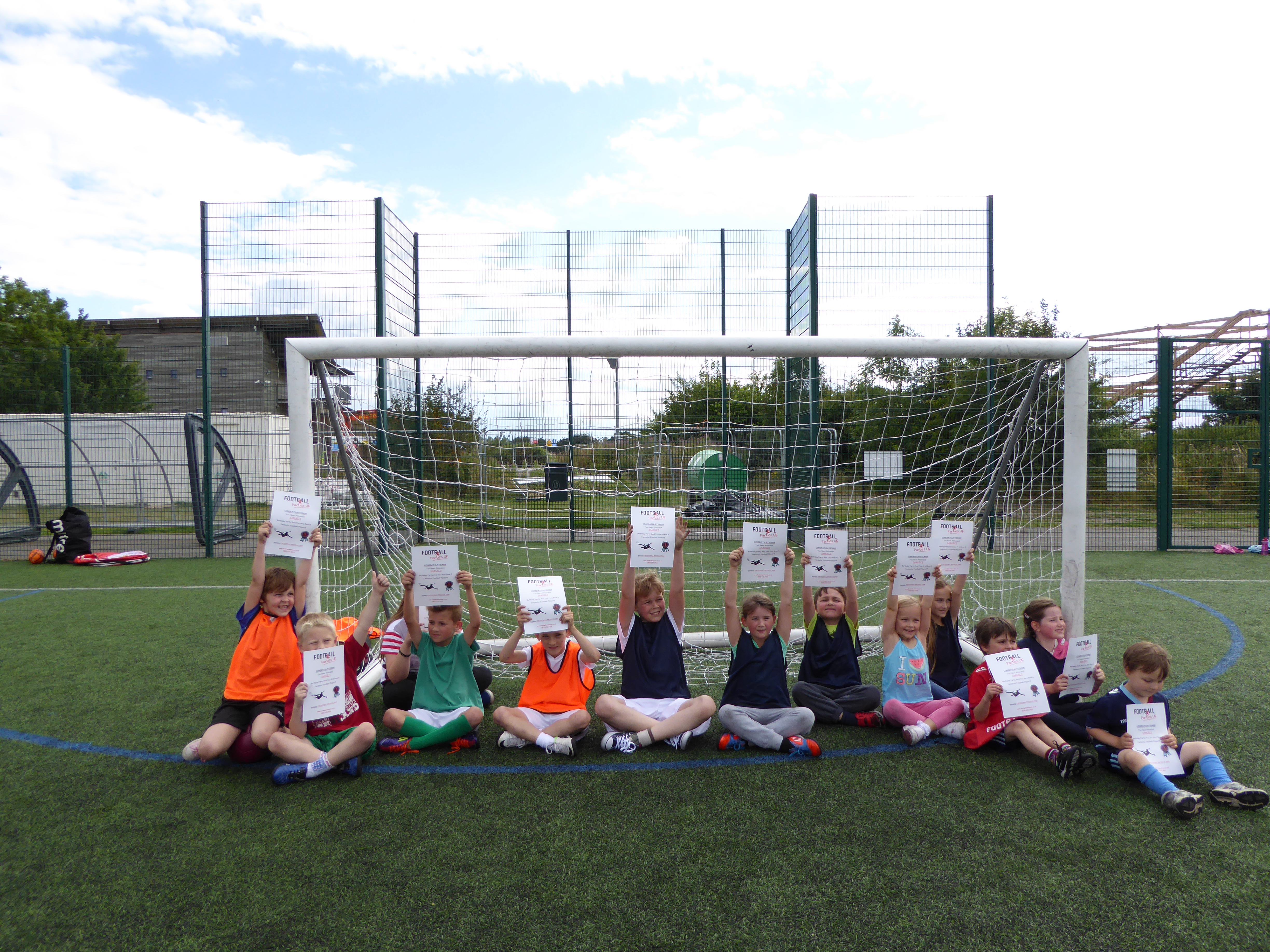 party that is hosted by experienced football coaches? Look through our fantastic range of party packages and book today!
We hope to provide you with memorable moments for your special children's party event that will be thoroughly enjoyed by all. We cater for a range of ages from 3 up to 15 years old so no matter how old your child is we have a football party package to suit.
As part of our packages we can come to any venue of your choice or if you prefer you can hold the football party at one of our football party venues. When booking your own venue, popular choice's are local community, village & sports halls with an alternative option of an outdoor football party at your local recreation ground or all weather pitch. This however comes at a risk of the weather.
Football Parties are fun and above all allow your children the chance to run around in the fresh air, while learning a new sport in a competitive environment. Not only are they fun they also encourage sports participation, teamwork and healthy living.
Each child's party package offers 60 or 90 minutes of fun filled sporting action, to book or for more information contact us via our booking form, Call: 0800 433 2454 / 0333 577 2454 Or Email: info@footballpartiesuk.co.uk.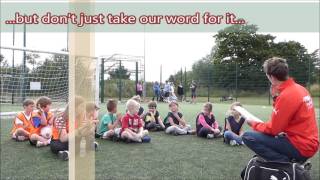 Click Here To See Over 100 Of Our Testimonials
TESTIMONIAL'S
Here are just a few testimonials from some very happy customers:
"I wanted to say thank you so much for such a great party! The boys loved it and Andy was excellent with them, even the more challenging characters! They were all buzzing about it at school last week! And also, we hadn't realised that the football gifts (instead of party bags) were going to be such good quality for the price! Every guest was thrilled to have their own football to take home! Thanks again, we'll definitely recommend you to others and use you again in the future if football is the required theme next year!" – Mrs Buchan
 "I wanted to say how great Mohamed was at the party on Saturday, he is natural with children and they warmed to him straightaway but also listened – no mean feat! Everyone aid they had a great time" – Sally Porter
 "I would just like to say thank you to your company and to Coach Andy for the excellent football party you provided for my Son Robert. Him and his friends had the best time. The coach was amazing and got everyone involved. Robert has not let go of his trophy and is already planning his next football party next year!It was absolutely brilliant and I have already recommended you to some of the other mum's." – Karen
 "I had a football party with yourselves on Sunday 17th Feb this year (2019). We had Andy hosting and I just wanted to say how happy the children and I were with the service provided. Andy was really professional and great with the kids… even those that were shy at first. He got everyone involved and made my son feel really special as the birthday boy. It's a great party for the cost and we will definitely be using you again in the future. Thanks so much again." – Holly
 "Thank you so much for making my sons 6th Birthday the best. Our football coach, Andy was amazing with the children. He kept them all entertained and focused for the whole hour and a half. I will highly recommend you to everyone I know." – Samantha
 "Life is quite hectic so I often don't find the time to give feedback however after my little boys 9th champions league party yesterday i knew I had to find the time. I'm not sure where to start coby has a party every year and this was by far the best hosted one that he has had. Coby and his friends had so much fun and the host Andy got everyone involved even the little ones. The activities were varied keeping the children engaged and the tournament at the end was fab! I had lots of compliments from parents and the children in how brilliant the party was. There were even some tears at the end as children did not want to go home. I believe there may be some of the parents getting in touch for a party of there own. Thank you so much." – Donna
 "Thank you for an amazing party, Samuel had the most amazing time and it is the talk of his class. The kids were thrilled with their certificates and Samuel is In love with his tophey, it's such great quality for only 4.99. The coach arrived full of smiles and enthusiasm and kept the kids engaged for the full time. Parties for 9 year olds are very difficult so this was perfect and great value for money.  Thank you."  – Tanya
 "Thanks for running a great football party they had a great time and really enjoyed it despite the weather!" – Heledd
 "Just to say that the kids really enjoyed the party. Andy was very good with the kids. And the footballs were fab. So pleased we used your company. Thank you." – Chantal
"Thank you for a really great party. The kids really enjoyed themselves.  They loved their certificates and especially their new footballs, which I thought were excellent quality. James has his trophy glued to his side at all times :-). " – Danielle
"Just wanted to say thank you for the party on Saturday.  All the boys really enjoyed themselves so much!" – Kerri
"I just wanted to pass on my thanks to Andy who hosted my sons Joshua's party on Saturday morning. Wow he was absolutely amazing with the kids kept 30 of them entertained and had so much enthusiasm. So impressed and the feedback from other parents was all great positive words. Please pass on our thanks to Andy, we were so happy and so was Joshua we hope to use you again in the future." – Laura
"Just to say a big thank you to Andy for his efforts at George's party on Saturday.  The kids had a fabulous time and Andy had a great way with them getting them all involved especially when there were a few tears (because they didn't score!), and getting the birthday boy involved when he didn't want to join in.  Really impressed and will certainly recommend you to others." – Ruth
"I just wanted to say a massive thank you for today. The party was a huge success and Andy was absolutely fantastic with the children. I would recommend your parties to anyone." – Danielle
"I just wanted to say thank you for a great party Lewis and his friends really enjoyed and I will definitely recommend you." – Mark
"It was such a brilliant party. Jordan was fantastic with the kids and very professional. Huge thank you." – Rina
"Just to say an enormous thank you for Harry's party today. You have the patience of a saint and so much enthusiasm. The children loved it and it made our lives incredibly easy." – Jan
"I just wanted to say Kabir had a great birthday party. Dominic was absolutely fantastic, so a big thanks to him again." – Monica
"I would like to say a big Thank you for hosting Seve 6th party today!! He has had the best morning! Wants to do it again next year!" – Corinne
"Thank you so much for the fantastic football session at miles' party yesterday. It was excellent and all the children loved it!" – Sarah
"Thank you for today's party. The coach was fantastic and all the boys enjoyed themselves. I will defiantly be recommending you" – Gem
"Josh was amazing today! Fantastic control of all the boys (which is amazing….6/7 year olds are a tricky audience)!!!!  Oliver and Charlie had a fabulous party! Thank you so much" – Zoe
"I just wanted to say a massive thank you to yourself, James (the coach) and Football Parties UK for hosting such a fab and unique party for Logan and his 29 classmates.  They all had a brilliant time … with some girls even wanting to join football teams now!  All the parents said what a great idea it was, and I imagine they benefitted from tired children who went to bed without a fuss on Saturday." – Lynne
"Just wanted to say a big thank you for today, all the kids had an absolutely amazing time! James was brilliant with the kids and Thomas had a great party." – Sara
"Thank you very much for our coach yesterday at Isobel's party.  He was excellent, all the children engaged with the activities.  They had a great time." – Suzanne

"Just like to say thank you very much for a very well organised football themed event and appreciate the work and effort you put in. Will certainly recommend you to friends interested in organising a similar event." – Michael
"The kids had a fantastic time on Sunday. Josh really was a brilliant coach, he kept so many kids totally under control and really interested and enjoying what he was doing with them. We wanted to let you know what a good job he was doing!" – Daisy
"Thank you so much for the party on Saturday. Alfie hasn't stopped talking about it! We were really impressed, as were the other parents. We'll definitely be recommending you – and, according to Alfie, using you for all his future birthday's! Can't thank you enough. " – Debbie
"Zack and his friends had a brilliant time!!! Will definitely be recommending you to our friends." – Joe
"Thank you so much- Yash had the best birthday ever. Thank you Andy for making it so enjoyable for the kids. Will surely book you again." – Anjuly
"It was absolutely brilliant. William and his friends absolutely loved it. The parents were also impressed! William is wearing his medal with pride too. Thank you very much, we would certainly recommend and use again." – Fiona
"We thought it was a great party and Andy did a really good job of engaging and controlling the boys! I will recommend you to others" – Amy
"Just wanted to say thank you for entertaining everyone at Leo's 4th birthday party. Leo had a great time and I thought Andy was really good at communicating with the children and keeping it at a good level for their age" – Katy
"The party was a huge success, all of the boys had a great time.   The parents who attend have all made a point of sending a note to myself and Harry's mum to thank us for such a great party.  So well do definitely worth the cost and a business card I intend retaining." – Collette
"Please thank Andy for hosting Joshua's 9th birthday party last Saturday. He had a great time and his friends were talking about it at school on Monday! A party to remember!" – Kara 
"Thank you very much. Andy was really good and I would recommend him again to friends!" – Valerie
"Thank you for a great party today! Kids had a fantastic time and you had their attention for the full 90 mins-thank you!" – Becca
"Thanks so very much. Alfie had such a great party, he loved it! Thanks so much also for controlling and managing that noisy attitude-filled bunch of boys too! It all went brilliantly." – Cath
"Would just like to thank Andy for today.  Lewis and all the kids had so much fun. And Andy did a fantastic job. Lewis is already asking if he can come again next year.  So thank you again. I'm sure u will be hearing from me again next year." – Amanda